The School of T'ai Chi Chuan Amsterdam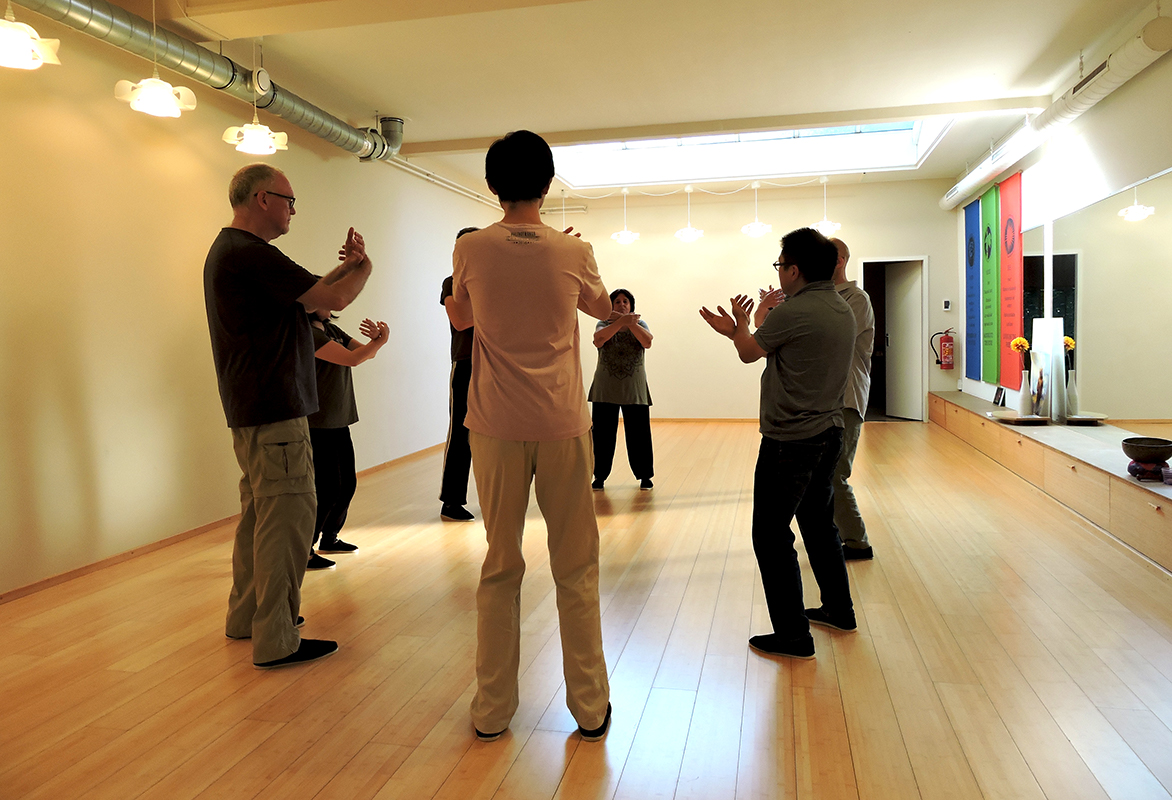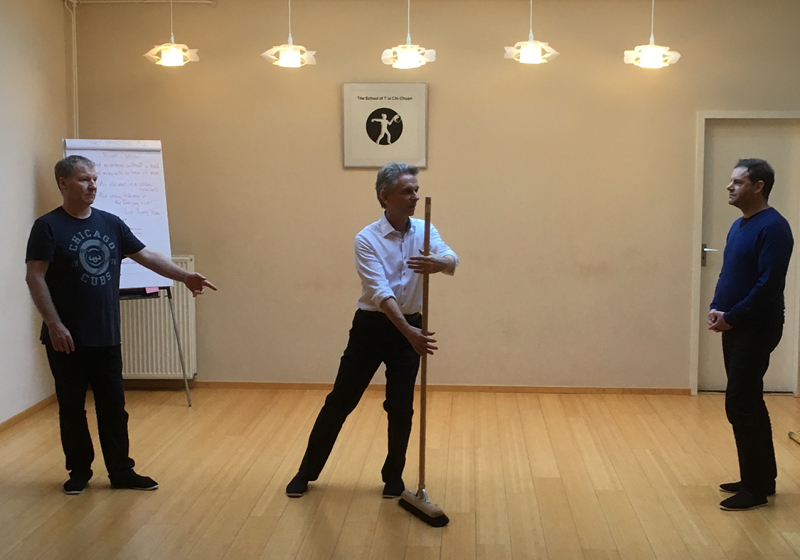 How do we teach?
One of the distinctive features of our school is that we strive to teach T'ai Chi in teams of at least 2 teachers. This system makes our lessons very easy to follow. In addition, the emphasis during the lessons is on giving clear indications so that it is clear how the movements work. With two or more of our instructors working together in a single class, as a student you always have one instructor to follow, while another instructor guides the class and can thus meet the specific needs of the group.
We give a beginner training T'ai Chi of 10 weeks four times a year: Autumn, WInter, Spring and Summer, followed by a summer training of one week.
SCHEDULE WINTER 12 NOVEMBER 2018 - 8 FEBRUARI 2019
SCHEDULE AFTER SUMMER / AUTUMN 3 SEPTEMBER 2018 - NOVEMBER 9, 2018
MONDAY
FUNDAMENTALS 2 19:45 – 20:45
GRATIS OEFENSESSIE IF 21:00 – 22:00
TUESDAY
IF & SWORD 18:45 – 19:45
FUNDAMENTALS 1 19:45 – 20:45
BEGINNERS 1 21:00 – 22:00
WEDNESDAY
BEGINNERS 1 18:30 – 19:30
INTERMEDIATE FORM 19:45 – 20:45
BEGINNERS 2 21:00 – 22:00
THURSDAY
BEGINNERS 2 19:15 – 20:15
CULTIVATING SENSING HANDS 20:30 – 21:30 (om de week)
SCHEDULE SPRING 2019
11 FEBRUARI 2019 – 27 APRIL 2019
info follows
SCHEDULE SUMMER | 2019
 29 APRIL 2019 – 7 JULI 2019
info follows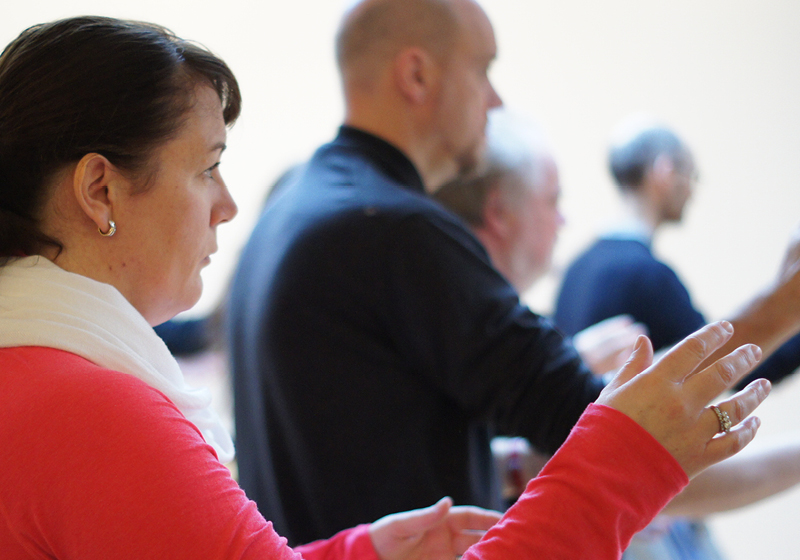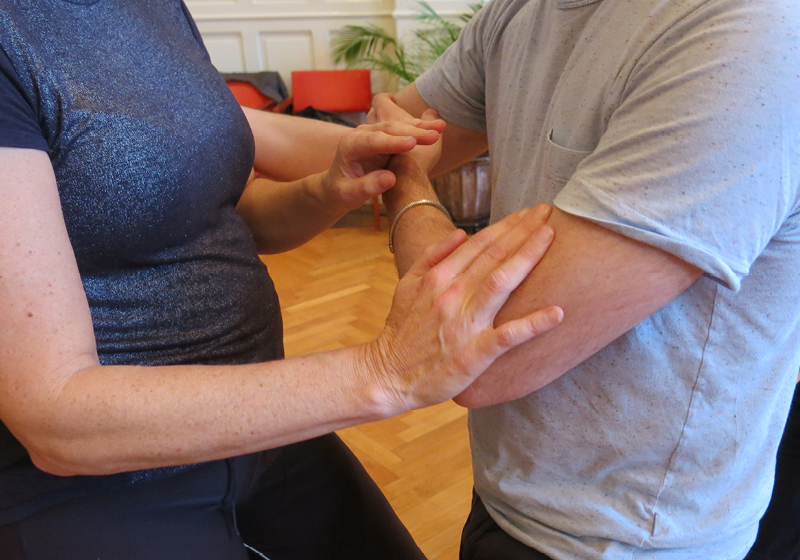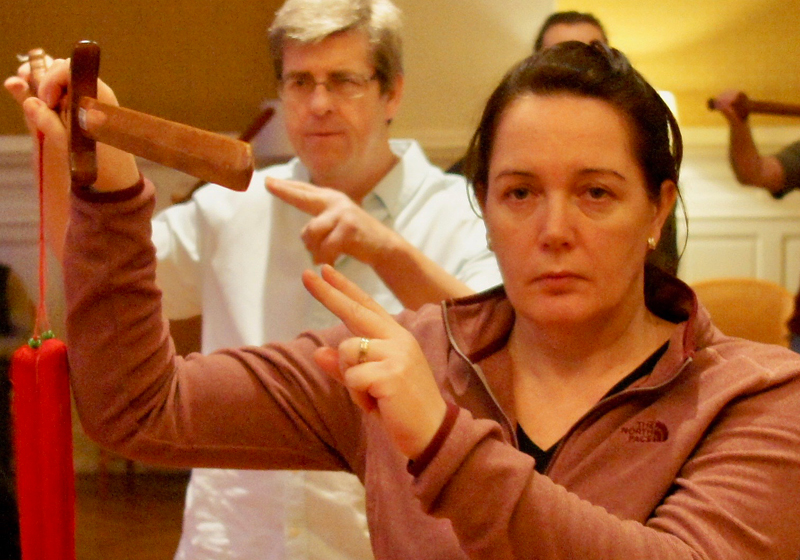 We teach in four terms of ten weeks per year. 
Below you can read all about the content and price of the courses and you can register.
We teach Tai Chi in a carefully constructed curriculum.
Ideally you take a next step when you feel reasonably certain about what you have learned in your previous course. If you have questions, don't hesitate to contact us. Or come to one of our introduction classes.
COME TO OUR FREE INTRODUCTION LESSON
Sunday 11 November 19:00 – 20:30.
Are you curious about T'ai Chi and/or Qi gong, then come to one of our free introduction lessons. Four times a year, at the start of a new period, we offer these kind of sessions. Following these lessons the  Beginners 1 courses start. The first upcoming introductions to be offered will be on and on Saturday 25 of August from 11:30 – 13:00 and on Sunday 2 September 19:00 – 20.30. You don't have to preregister, just show up about 10 minutes ahead of time. Please wear loose fitting clothes and socks. Following the session you can register for a Beginners course if you like.
Did you miss the introduction(s)? No problem. To try us out just come to the first class of one of the Beginners 1 courses and take it free of charge. Should you decide to sign up for  the course you do pay the full amount of the 10 lesson course.
BEGINNERS 1
Tuesday 21:00 – 22:00
Teachers Peter Streef, Wawan Kawulusan

Thursday 18:00 -19:00
Teachers  Johanna Koelman, Kana Yamaguchi
The Yang Style T'ai Chi short form consists of 37 posities that are performed in a slow and even pace. The form is divided in three parts: the man part, the earth part and the heaven part. This subdivision refers to T'ai Chi as a way for a human being to (learn to) live in harmony between heaven (yang) and earth (yin). During the course Beginners 1 you learn the first part of the form. This is essentially a form in itself. All the principles that make up T'ai Chi (qualities that are continually present, like relaxation, straightness etc) will be taught.
BEGINNERS 2
Wednesday 18:30 – 19:30
Teachers Ossian Bakker, Hal Caswell, Frances The
In the course Beginners 2 (B2) you will learn the second part of the form (the earth part). When learning the new movements in this part you will be challenged to stick to and further cultivate the T'ai Chi principles. For example, there are more positions where all your weight is on a single leg and there are steps that require a bigger opening of your hip joint. And just as in the first part of the form, the precision of the positions and movements are an important part.
BEGINNERS 3
Wednesday 21:00 – 22:00
Teachers Harm Leerling, Ossian Bakker
Thursday 19:15 -20:15
Teachers Hal Caswell, Sherry Kent
Beginners 3 (B3), also called the "sky part", we will finish the form. In the first two parts – in addition to the principles – precision of the positions and movements play an important role. In the third part you also have to deal with "more free" positions, where the focus is on the inner quality of the movement.
By the end of B3, you will be able to practice the entire form, from beginning to end.
FUNDAMENTALS 2
Tuesday 19:50 -20:50
Teachers Gerrie Sporken, Koen Krikhaar
After you have learned the form and have possibly gone through Beginner Form Completed to further your knowledge and embodiment of the choreography of the form. the school offers a wide variety of courses to delve deeper in the study of T'ai Chi Chuan. We start with the course called Fundamentals (Fun). Here we work more diligently with the foundation. Just like when building a house, a solid foundation is crucial for the whole structure to uphold. Through an increasingly deeper awareness and relaxation in conjunction with proper alignment of feet, knees, hips and spine your balans can improve significantly. In order to gain more insight in this process you will often work in pairs where you both will give each other feedback. It is important to realise that we assume that you can 'do' complete the form by  yourself at this stage. Fun1 indicates the first 10 lessons of the course. Fun2 the last 10 lessons of the course. Together they complete the whole course. The price shown is for the complete 20 lessons.
Price € 240.00
Repeat € 180, –
Students, City Pass (dot), Volunteers € 170.00
Required course B3 or Beginners Form Completed (BFC)
Follow-up course Push Hands 1
Number of lessons 20
PUSH HANDS 1 / SENSING HANDS 1
Monday 19:45 -20:45
Teachers Peter Streef, Rani Izhar
"Push hands" (tui shou) practice might be better translated as "sensing hands." In this partner exercise, we use postures and movements from the tai chi form to "listen" with our body for our partner's balance, timing, and tension. Through push hands practice, we learn to play with another person's energy and movements and develop relaxation and balance in our responses.
Students move through three levels of Push Hands. Push Hands 1 is an introduction to working with a partner in a non-confrontational way, focusing on stability, balance and the ability to interact in harmony with another person with one-handed contact. It is taught between the Fundamentals and Intermediate levels of form work.
Price € 240,00
Repeat € 180,-
Students, City Pass (dot), Volunteers € 170.00
Required course Fundamentals
Follow-up course IF
Number of lessons 20
INTERMEDIATE FORM
Monday 21:00 – 22:00 Free practice session for all our IF students
Teacher Peter Streef
Wednesday 19:55 – 20:55
Teacher Harm Leerling, Ossian Bakker
In the course Intermediate Form (IF) we will integrate the teachings of the course Push Hands 1 into the form. We will go through the whole form again with a more internal focus and practice. A more internalized feeling of straightness for example will alow you to go through the form more smoothly. Needless to say that we assume you can go through the form that you have been studying so far without effort.
Price € 240,00
Repeat € 180,-
Students, City Pass (dot), Volunteers € 170.00
Required course PH1
Follow-up course PH2
Number of lessons 20
IFC & SWORD
Tuesday 18:45 – 19:45
Teachers Gerrie Sporken, Koen Krikhaar
IFC staat voor Intermediate Form Consciousness, en kan gezien worden als een verdere verdieping van de cursus Intermediate Form (IF). IFC wordt echter niet direct na de cursus IF gegeven. Eerst volgen studenten nog twee Push Hands cursussen (PH2 en PH3) waarbij het werken met partners, het verfijnen van de pivotlijn, en de ontspanning en gevoeligheid veel aandacht krijgt.
In IFC ligt de focus op het laten gebeuren van de Vorm vanuit de Dantien. Armen en benen worden niet meer direct vanuit het hoofd aangestuurd maar worden stap voor stap ondergeschikt gemaakt aan de Dantien. Benen maken geen stap meer, maar volgen de impulsen vanuit het centrum. De Vorm wordt vloeiend zonder stops uitgevoerd. Het bewustzijn is ongebroken in de Dantien en we worden niet meer gehinderd door de uiterlijkheden van de choreografie van de Vorm.
Deze cursus wordt hier voor het eerst gecombineerd met de Zwaard Vorm. Het idee is dat het vloeiende karakter van de Zwaard Vorm ondersteuning biedt aan het bereiken van de doelen van IFC. Andersom is de focus van IFC met de nadruk op dantien een prima stap om de Zwaard Vorm meer innerlijk te kunnen uitvoeren.
Deze cursus is open voor iedereen die PH3 heeft gedaan en de beginselen van de Zwaard Vorm beheerst.
Price € 440,00
Students, City Pass (dot), Volunteers € 310,00
Required course IFC
Follow-up course Fencing
Number of lessons 40
CULTIVATING SENSING HANDS THURSDAY
Thursday 20:30 – 21:30
Teachers Sherry Kent, Harm Leerling
This class is where we come together to put time in the art of our sensing hands. Practically this means to practice sensing hands together under the guidance of Harm and Sherry on our way to stay ever more balanced, centered and relaxed in our interaction with others.
T'ai Chi Chuan consist of three main practices: the form, push hands and sword. Studying the form you learn about yourself: your health, balans and level of relaxation to name but a few. In the various push hands courses you have learned to expand your awareness through working with a partner. What we aim for in this particular class is to refine our ability to sense and follow our partners movements.
This course is open to all our students and teachers who have completed sensing 1 (formerly known as push hands 1) and attracted to further cultivate their sensing hands skills.
This group meets every other week on Thursday;
18 Oktober
1 + 15 + 29 November
13 December
10 + 24 January
It is possible to attend  every session or on a per session based.
Price for whole course  € 100,00
Price for individual sessions 6,00 with use of a 5 or 10 session strippenkaart
Free admission for teaching apprentices
Required course PH1
Follow-up course Fencing
Number of lessons 20
Enige tijd geleden begonnen met T'ai Chi lessen. In het begin 1 keer per week, maar al snel 'smaakte het naar meer'.
De hele vorm inmiddels doorlopen en geniet nog steeds van de uitdagingen en overwinningen.
De rust, warmte en gezelligheid in de school motiveren om met elkaar de vorm te ontdekken.
Het is een niet meer weg te denken aanvulling op mijn dagelijkse rituelen.
Erna Corsten
Ik vind het een geweldige school. Een prettige sfeer, goede lessen, een doordachte opbouw van de cursus, telkens kom je een stapje verder, ga je iets meer de diepte in. Ik wilde aanvankelijk alleen de vorm leren. Ik dacht dat, als ik de vorm kende, ik het dan wel onder knie zou hebben. Nu begrijp ik dat er nog veel meer te ontdekken valt.
Henri Overduin
Dit wil ik ook, dacht ik, toen ik decennia geleden in Taiwan voor het eerst iemand T'ai Chi zag doen. Het duurde alleen nog even voordat ik er werkelijk aan begon. Bleek er al die jaren een tai chi school bij mij om te hoek te zitten… Een school met een gemoedelijke sfeer en een frisse aanpak, waarschijnlijk doordat er les gegeven wordt door verscheidene leraren, die ieder een eigen invalshoek meebrengen. En wat T'ai Chi voor mij is valt moeilijk te zeggen. De ene keer raak ik erdoor betoverd, de volgende keer raak ik erdoor gefrustreerd. Het is in ieder geval iets wat lichaam en geest oneindig goed doet.
Yvon Koelman
Verkrijgbaar op de school
Begin je bij ons met een cursus Beginners 1 vraag dan naar het beginners pakket van T'ai Chi schoentjes, DVD en poster.
De DVD en de poster zijn een goede ondersteuning van je eigen studie van de vorm. De schoentjes zijn al decennia het perfecte schoeisel om deze delicate kunst te beoefenen.
Bestel hier je beginners pakket €25,00